Santas Grotto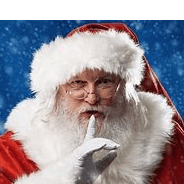 He's Back.....Santa Claus is coming to town
Santa's Grotto will be in the Assembly Rooms on Sunday 5th Dec from 11a.m to 6pm.
Cost is £3.50 per child which includes a small gift.
To avoid queues, make sure everyone gets to see Santa we are encouraging everyone to pre-book.
There are 15 places available, every 15 mins (the last booking is for 5.45pm)
You can book a slot in advance via Ticketsource : please note there is a small fee of 29p payable to Ticketsource for this.
You can also pay on the day however you may be restricted on timings and available slots so booking in advance is really recommended.
Tickets will be available to pre-book up to Friday 3rd Dec, thereafter it will be payment only on the day, subject to availability.