Swaffham Town Council
Swaffham Volunteer Hub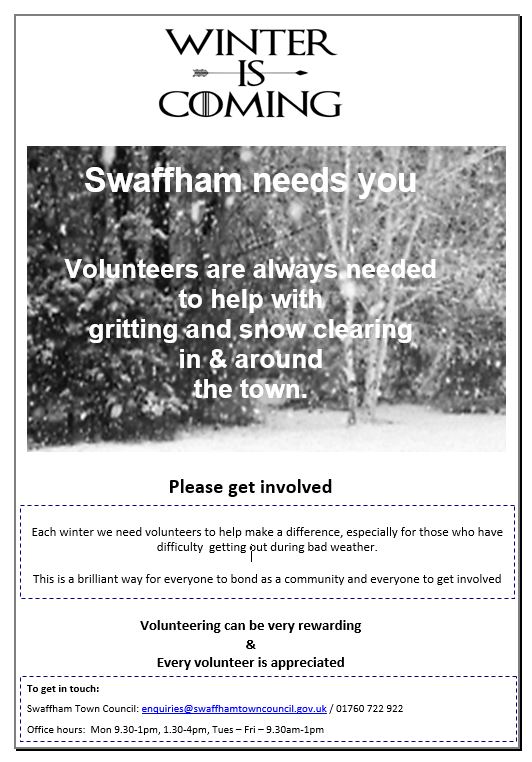 Swaffham now has a Volunteer Hub!
What does it do?
It signposts opportunities for volunteers in the town.
How does it work?
Organisations tells us what they need, the working hours and skills needed and we publish the opportunities. You apply directly to the organisation.
How do I get to see the opportunities needed
We publish a regular "newsletter" available at Town Council reception, Museum and Community Centre and also by link on the Town Council website. The first one will be published towards the end of April.
Who is running the scheme?
Ownership of the scheme belongs to the Town Team.
The co-ordinator is Sue Biggar and the administrative organiser is Sue Gattuso. Both come with a background of experience in working with volunteers.
Do I have to pay?
No. This is voluntary service run by volunteers for volunteers.
What kinds of jobs are available?
Whatever the organisations need. It might be long-term and regular service or a special event or project they need help with. It may be that you have skills – like sewing or DIY – that you would like to offer.
How can I contact the Hub?
At the moment by email swaffhamvolunteerhub@gmail.com or pop a note into the Town Hall, Museum or Community Centre. Organisations also contact us the same way.
Why are you doing this?
Because several of you have approached Town Councillors asking where they can get information about volunteer work in the town. Our role is to bring both together.
The Hub is already involved with the Town Team's Pride in the Community initiative by encouraging volunteers to keep an area of Swaffham tidy and litter free.
Email: swaffhamvolunteerhub@gmail.com or drop a note in at the Town Hall, Museum or Community Centre
Pledge a Patch
Join the Pledgers and help keep a patch of Swaffham tidy and litter free. Nearly 50% of the town is already pledged.
Could you help us get to 100%?
Some areas still waiting for Pledgers are:
Town Centre
Lynn Street
Station Street
Sporle Road